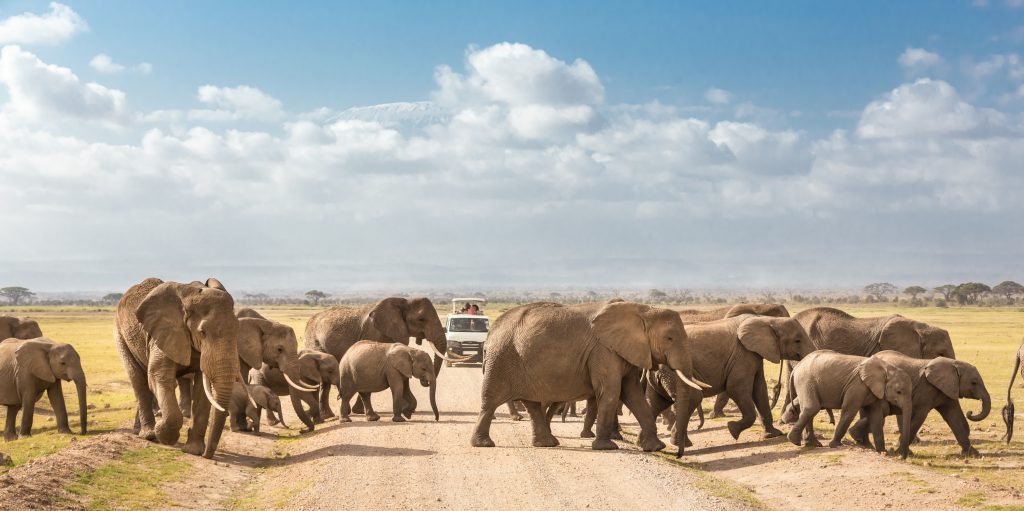 Day 1: NAIROBI
On arrival at JKIA you are met by a CATS Africa representative and transferred to your hotel. Spend the rest of the day resting and adjusting to the different time zone. Lunch and dinner on own account. Overnight at NAIROBI SAFARI CLUB (bed & breakfast).
Day 2: NAIROBI / AMBOSELI
Travel to Amboseli National Park, located to the south east of Nairobi. The Park is famous for its big game and scenic beauty with the landscape dominated by Mt. Kilimanjaro. It offers an interesting contrast with its dry and dusty appearance, which can be attributed to the volcanic ash that came out of Mt Kilimanjaro when it last erupted. In spite of the appearance, there is a continuous supply of water that gets filtered through volcanic rocks from Kilimanjaro's melted snow. These streams flow underground, creating lush green areas, and converge at two clear water springs in the park. All meals and overnight at AMBOSELI SOPA LODGE (full board).
Day 3: AMBOSELI
Spend a further day in the park on morning and afternoon game viewing drives. Wildlife here includes the zebra, wildebeest, giraffe, impala, caracal and serval cat, lion, leopard, cheetah, buffalo among others. There are also over 400 species of birds, including the bee-eater, kingfisher, African fish eagle, martial eagle and pygmy falcon. Visitors mainly come to watch the huge herds of elephants. The bull elephants have some of the largest tusks in all of Kenya. Visitors can also enjoy excellent views of Mt Kilimanjaro and Meru. All meals and overnight at AMBOSELI SOPA LODGE (full board).
Day 4: AMBOSELI / ABERDARES
After breakfast and check-out , depart with a game drive en route to the Aberdares region, a beautiful mountain range in the central highlands of Kenya. Arrive for lunch at The Aberdare country club which is on a 1,300 acre wildlife sanctuary. It is a haven of unhurried charm set in garden bursting with a profusion of colour, and with peacocks living with the lush green lawns. Transfer later to the Ark Lodge and watch game from the lodge terrace as they arrive to lick salt and quench thirst. Dinner and overnight at THE ARK LODGE (full board).
Day 5: ABERDARES / LAKE NAIVASHA
After breakfast and check-out drive down the Great Rift Valley floor to Lake Naivasha which is the first of the Rift Valley lakes and home to fish, hippo, waterbucks and a rich birdlife. Arrive in time for lunch at the lodge and later enjoy a boat ride where you get a chance to identify some of the many birds and see hippos up-close. On the shores you might be lucky to see some of the plains game in the area; waterbucks, impalas, zebra, giraffe. Dinner and overnight at LAKE NAIVASHA SOPA LODGE(full board).
Day 6: LAKE NAIVASHA / MAASAI MARA
Drive to the world famous Masai Mara Game Reserve, so named to mean the "spotted plains" in Maa language. This is home to the greatest concentration of large mammals and is widely recognized as Africa's ultimate wildlife reserve. Arrive in time for lunch and spend the early afternoon at leisure followed by an evening game viewing drive until sunset. The park is the northern extension to the vast Serengeti-Mara ecosystem, famous for its annual migration of wildebeest. This is a spectacular place of breathtaking sceneries, never-ending plains and the most abundant variety of wildlife remaining anywhere in the world. Dinner and overnight at MARA SOPA LODGE (full board).
Day 7 & 8: MAASAI MARA
Spend the next two days in the Reserve on extensive game viewing drives. Wildlife is abundant in the Reserve with the gentle grasslands ensuring that animals are never out of sight. Birds are prolific including immigrants, 450 bird species have been recorded among them 57 birds of prey. Every year the Mara plays host to the world's greatest natural spectacle; The Great Wildebeest Migration from the Serengeti beginning July to October each year. The promise of rain and fresh life giving grass in the north brings more than 1.5 million Wildebeest together into a single massive herd. They converge across the border into the Mara, making a spectacular entrance in a surging column of life that stretches from horizon to horizon. The big cats – lion, leopard, and cheetah – follow the wildebeest, essentially their main source of food, into the Mara. So the Mara at this time is literally packed with wildlife, providing lucky visitors on safari with superb sightings of game. All meals and overnight at MARA SOPA LODGE (full board).
Day 9: MAASAI MARA / NAIROBI / DEPART
After breakfast and check-out, depart for the drive back to Nairobi arriving in time for lunch at the world famous Carnivore Restaurant. Later you are transferred to JKIA to catch your flight back home.